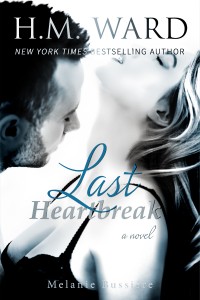 BY NEW YORK TIMES BESTSELLING AUTHOR H.M. WARD & INTRODUCING MELANIE BUSSIÈRE
When a hot guy with blazing blue eyes and a sexy smirk saves my ass and covers up my sins, I know I'm screwed. He's poor, and is probably morally deprived like every other ass I've attracted recently.
I admit it. I'm a moron magnet. If the guy's a dick, then he sweeps me off my feet and promptly stabs me in the back. Billionaires are all the same. I've fallen for loser after loser, which earned me the classy reputation of being easy. I'm easy on the eyes, easy to bed.
But no one knows the truth, no one knows the events that forced me onto the ledge of that elite NYC hotel–no one except that strapped, hot waiter.
Now I have to figure out if he's an ally or an enemy. I need a friend, a real one, and not some jerk who's after my money or my name. But If I make the wrong choice, it'll destroy me.
The ledge high above the city was only the beginning. No one can help me now. I'm on my own.
Genre: New Adult Contemporary Romance
Type: Stand Alone Novel, No Cliffhanger, 298 pgs
---
GRAB IT TODAY!
                                             kindle       nook         kobo          apple      paperback
---
LAST HEARTBREAK – Video Teaser

---
 Reader Reviews:
"Incredibly moving, funny, sexy and tackling deeper everyday problems." –Debi G.
"An amazing story full of love, loss, heartbreak, joy and hope." –Carla
"Intense situations propel off the very first page and intertwine with flirty witty banter, combustible chemistry and gut wrenching heartache. Last Heartbreak is guaranteed to leave you with book hangover." –Cary
"A heartbreaking, shocking, captivating and engaging love story." –Debbie B.
"You don't often find men like Graham and it was so refreshing." –Stacey H.
"Funny and inspirational." –Sallie
"WOW….. LOVE IT, LOVE IT, LOVE IT. The book was completely captivating. You will keep turning and turning the pages as you enter an emotional roller coaster where you will be laughing, crying, breathless and fist-pumping as you get to know your next book boyfriend the nerdy, hot Mr. Parker." –ENA
"Very emotional. A real page turner I had a hard time putting it down." –Judy
"Gut-wrenchingly good." –Jen L.
"If you like a heartfelt story that makes you feel with everything within you, then read this story, you wont be disappointed. I loved it." –Kelli T.
"Definitely a nail-biter and I love the ending!" –Dona