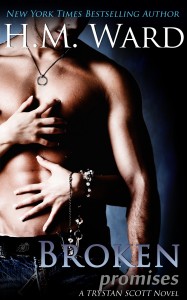 A big fat book. No cliffhanger. A dash of Ferro!
ONLY 99¢ TODAY! (Reg. price $7.99)
A new romance novel by New York Times bestselling author H.M. Ward.
One night, one time, one word is all it takes to wash away a decade of reason and regret. One secret threatens to push Trystan Scott six feet under, and, when those blazing blue eyes turn to me for help, how can I say no?
Before the billionaire playboy with rock-hard abs and a totally lickable dimple rose to stardom, we were friends for a while and lovers for a night. Though that was nearly a decade ago, our connection burns brightly in my memory. We weren't a one-night stand, not to me.
But I can admit it–I got played. To him, I was just another conquest. Now my beautiful best friend is long gone, and I've moved on. Until fate forces us to meet face to face, and everything I felt for him comes rushing back. Trystan is crashing and burning fast. The press are flocking like vultures, waiting for him to kill himself or worse. His mistakes earn them millions and I'm the only one who has a chance at saving him.
Genre: Contemporary, Raw Romance
Type: Novel, 437 pgs
Stand alone, no cliffhanger, with epilogue
GRAB IT FOR 99¢ TODAY!
See what readers are saying about BROKEN PROMISES:
"This has to be H.M. Ward's best work yet!!!" – Sheri
"I have no words to describe how amazing, awesome, unbelievably sexy Trystan is." – Cheryl
"Be ready to laugh, break, cry and rejoice." – Stacy Hahn
"Holly's writing in this fantastic story comes straight from the very depths of her heart." – Andrea Sanders
"All I can say is that this book is a must-read!" – Ian
"Very sweet loving and as always, addictive" – Sarah