So, I hit a snafu when updating the listing and long story short, one site had this title at $2.99 instead of $5.99, and all the other sites quickly price matched. It should lift at some point today. Normally, my novels don't go on sale until 11+ months after publication, so having it on sale the week of publication wasn't part of the plan. But hey, stuff happens. I'm rolling with it.
Genre: New Adult Contemporary Romance
Type: Stand Alone Novel, No Cliffhanger, 298 pgs
---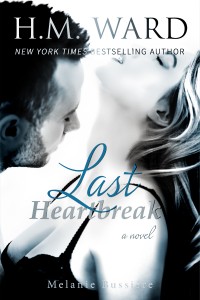 GRAB THE e-BOOK NOW FOR ONLY $2.99!
             kindle       nook         kobo          apple      paperback
the paperback is on sale at $11.99 (reg. $18.99)
---
LAST HEARTBREAK – Video Teaser
---
 Reader Reviews:
"Incredibly moving, funny, sexy and tackling deeper everyday problems." –Debi G.
"An amazing story full of love, loss, heartbreak, joy and hope." –Carla
"Intense situations propel off the very first page and intertwine with flirty witty banter, combustible chemistry and gut wrenching heartache. Last Heartbreak is guaranteed to leave you with book hangover." –Cary
"A heartbreaking, shocking, captivating and engaging love story." –Debbie B.
"You don't often find men like Graham and it was so refreshing." –Stacey H.
"Funny and inspirational." –Sallie
"WOW….. LOVE IT, LOVE IT, LOVE IT. The book was completely captivating. You will keep turning and turning the pages as you enter an emotional roller coaster where you will be laughing, crying, breathless and fist-pumping as you get to know your next book boyfriend the nerdy, hot Mr. Parker." –ENA
"Very emotional. A real page turner I had a hard time putting it down." –Judy
"Gut-wrenchingly good." –Jen L.
"If you like a heartfelt story that makes you feel with everything within you, then read this story, you wont be disappointed. I loved it." –Kelli T.
"Definitely a nail-biter and I love the ending!" –Dona