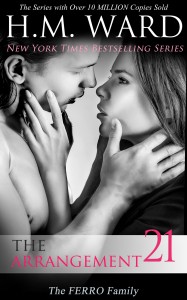 The final 3 installments of SEAN FERRO in THE ARRANGEMENT. Grab it now! Series ends with book 23.
THE SERIES WITH OVER 12 MILLION COPIES SOLD
Volume 21 in the New York Times Bestselling Arrangement Series
The sexy billionaire lying next to me just asked the one question I've been longing to hear. Sean Ferro is finally there, ready to marry me. All I have to do to live happily ever after is destroy my enemies, kill my brother, and try to lose myself in the process.
As it is, I feel like I'm coming unhinged. Past sins press against my mind, demanding to be dealt with, but I can't open the floodgates. I can't let those demons see the light of day. My actions are so far beyond shades of gray that I worry I'll destroy everyone around me – Sean included.
I never thought it would be difficult to say yes to the sexy, naked man lying in my arms. I want the happily ever after, but I'm not sure I have what it takes to get there.
Genre: New Adult Romance
This story unfolds over multiple volumes approx. 125 pages each.
~The Arrangement Vol 1-21 are on sale now.~ 23 books total in this series.
---
BUY IT NOW
---
Motorcycle man and Spray Start Car Girl – Teaser trailer for THE ARRANGEMENT series
Ooooh! Aaaaah! Swooooon!
Disclaimer: H.M. Ward is not responsible for screen damage due to lickage
---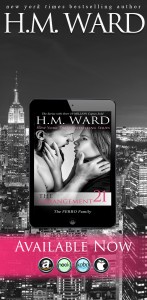 What other people are saying about THE ARRANGEMENT 21:
"Intensely erotic." – Debi G.
"Wicked hot with a touch of tenderness" – Cary M.
"Preorder this bad boy right now!" – Marissa 
"Sean definitely takes Avery to her limits and it is hot and disturbing at the same time." -Stacy H.