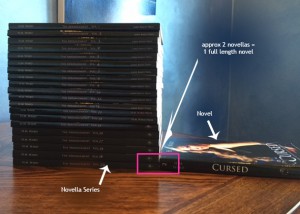 *Recently updated – this post originally appeared in 2013. I updated it with current pics.*
To all the people out there who told me that you aren't readers, I want to tell you that NOW YOU ARE! 🙂 You've read over 2,600 pages in THE ARRANGEMENT series alone. If you read the other Ferro books, you passed that!
Whoop! Whoop! Reading is fun when you enjoy what you're reading. I'm so glad so many people love the Ferro family! To date we've sold over 10 MILLION copies worldwide. That is a lotta readers. Keep on reading!
IS THE ARRANGEMENT A SERIES?
I've been getting emails from awesome fans who are curious about THE ARRANGEMENT series. It has a huge fan base – hundreds of thousands of people – and lots of new readers. Many of you already noticed, but some haven't so I wanted to make it clear.
Yes, THE ARRANGEMENT is a series. 
There's some confusion over what that means. My serials are not one book slashed into pieces. I know some writers do that, but I don't. I've actually been asked to speak about the construction of my serials at several writer's conferences next year, because the way they're written is unique. Quite frankly, if I took CURSED and slashed it into pieces, it would suck. But, that's another topic, so I won't go into that right now.
IS THE ARRANGEMENT ONE BOOK BROKEN INTO PARTS?
NO. Pictures help make it more obvious that THE ARRANGEMENT is not one book broken into volumes. For one, it's too big. eBooks are amazing, but the tactile sense of reading is lost. If a book holds my attention and I love the story, the time taken to read it flies by and I have no idea how many pages I read. That doesn't happen with paper. It's easy to see how much I read and where the end is, so I took a few pics for the ereader fans.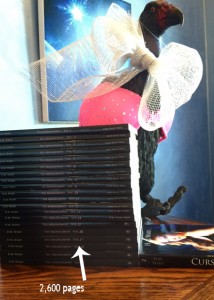 The stack of books on the left is the Arrangement series 1-20. The series is over 2,600 PAGES LONG (as of Aug 2015).
Cursed is on the right, and is one of my full length novels. It's the 2nd book in the Demon Kissed series and is about the same size as Damaged and Stripped (both are novels). Some of my novels are a bit longer, some are shorter, but it's average novel length for me (and most romances.)
So, if THE ARRANGEMENT series were presented in novel format, they'd be onto their 9th novel at this point in time. Every 2-2.5 volumes is about novel length. The Arrangement is a series the same way DEMON KISSED is a series. Multiple books tell the story, but these come out way faster.
WHY WAS THIS STORY WRITTEN AS A SERIES OF NOVELLAS?
(Uh, *raises hand* What's a novella?) A novella is a short novel. It's longer than a short story (think magazine), and mine are usually 100-130 pages in length.
This story was told as a series of novellas because there are readers who like this format, a lot. Plus, this format has perks that novels don't have.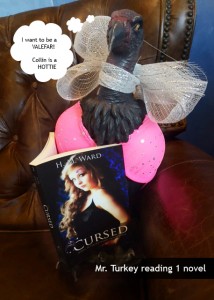 Here are the main serial novella perks:
They come out faster and the reader only has to wait 4-6 weeks instead of 8 months. Waiting 8 months for the next title from my favorite author sucks. Most of my fav authors put out 1 novel a year. I hate that. I want more. Now. Series like THE ARRANGEMENT offer that desire for new titles quickly.
Serials are less risky for the reader. If I like it, I keep reading and one book didn't eat up a ton of time.
They give the reader the option to read something new between novel releases.
Serials are less daunting. If someone hands you a huge ass book, it can be intimidating. Novella length books don't typically present that apprehension.
They're fast and fun. This kind of book is supposed to be fun, and not take a lot of effort, which is why lots of people love them.
THE ARRANGEMENT series was originally written for fans to have something to read between novels. Then it became a fan-driven series where the fans' comments are actually affecting the story line. It's become an organic story, and is way cooler than anything I dreamed up when I started.
A note about it from a fan:
"It costs approximately the same price PER PAGE for an Arrangement serial (in e-format) as is does for a 50 shades novel (in e-format). Considering that you can fit about 4 Arrangement serials into one 50 Shades novel (page count and total $) and that 50 Shades was a trilogy, we can EASILY make it to 12 books and reach the same total price and page volume as 50 Shades!
If you think of books like the Crossfire series, which will probably go onto 5 books (and is more expensive per page), we could make it to 21 Arrangement serials and not go over the Crossfire budget!!! (At the time Crossfire was a trilogy, it has since been added to due to the popularity of the series)." –MelanieAnne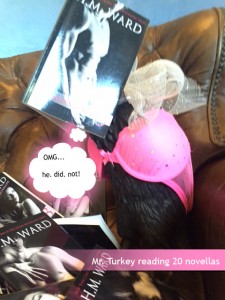 WILL IT BE BUNDLED INTO ONE BOOK?
Right now there are no plans to bundle, but there are plans for the series to go on sale like the rest of my titles. At one point the entire series was in KU. The entire series was on sale for 99 cents each one Christmas.
All the titles go on sale at some point, so keep your eyes glued to the facebook page to make sure you don't miss it. Massive sale alerts also go out via email, so make sure you're on that list. (Text AWESOMEBOOKS – 1 word – to 22828 or click here to get on the list).
And, I know you're all going to ask, so here it is: THE ARRANGEMENT Vol. 20 will be out on Monday! Yippie! No, it's not the final book in the series. I'll make a huge post when the final volume comes out.
DO I HAVE TO READ EVERY SINGLE FERRO SERIES TO KNOW WHAT'S GOING ON?
NO, you don't. Each series is stand alone. That means you can read DAMAGED and skip STRIPPED and you won't be lost if you pick up THE PROPOSITION (Bryan Ferro's story) which is complete as of 2015.
It's totally okay to know one brother better than the rest. 😉
If you hate cliffhangers, stay away from novella series in progress like THE ARRANGEMENT.
Series (novels & novellas) that are already completed include:
SECOND CHANCES
SHADOWS OF THE PAST
LIFE BEFORE DAMAGED (Peter Ferro's back story)
And more! This list isn't updated frequently and several series have concluded in the short time since this post was written.
DID YOU THINK THERE WOULD BE OVER 20 BOOKS IN THIS SERIES WHEN YOU STARTED IT?
No, not all. I'd planned a 4 book series originally. After book 3 came out, I offered the fans the opportunity to become involved in the flow of the storyline. Since there was still so much story to tell and you guys wanted more, I agreed.
One thing that I want to make clear is that at some point authors want to move onto other things. THE ARRANGEMENT was an experiment with messed up characters, an entire cast of them, and dealt with a topic that most people wouldn't touch. Add in the fan driven element and it's been a wild ride and completely amazing. But if I'm still writing this series in 4 years, I'll poke my eyes out. True story. I'm not writing Sean and Avery into the ground where I can't stand them anymore. Many authors are so sick of their characters by the time the end of a series comes around. I don't want that to happen here.
As of ARRANGEMENT 20, it should be very clear we're heading into the homestretch. 🙂 There will be a vote coming up soon, so make sure you're on the email list. You'll want to be in it!
Updated November 2015: 
THE ARRANGEMENT 23 will be the final book in this series. EEEeeeeep!
Disclaimer: Mr. Turkey and his likeness may not be reproduced cuz even if u try, u can't pull off coolness like this! Fo' shizzle!
Mr. Turkey's Disclaimer: Just because you see me with my face in Sean's book does not imply that I advocate the actions of said person in any shape or form. I was just really into the book. I may have swallowed a page, I'm not sure. In short, I still hate Sean Ferro.