SOLD OUT! SOLD OUT! SOLD OUT!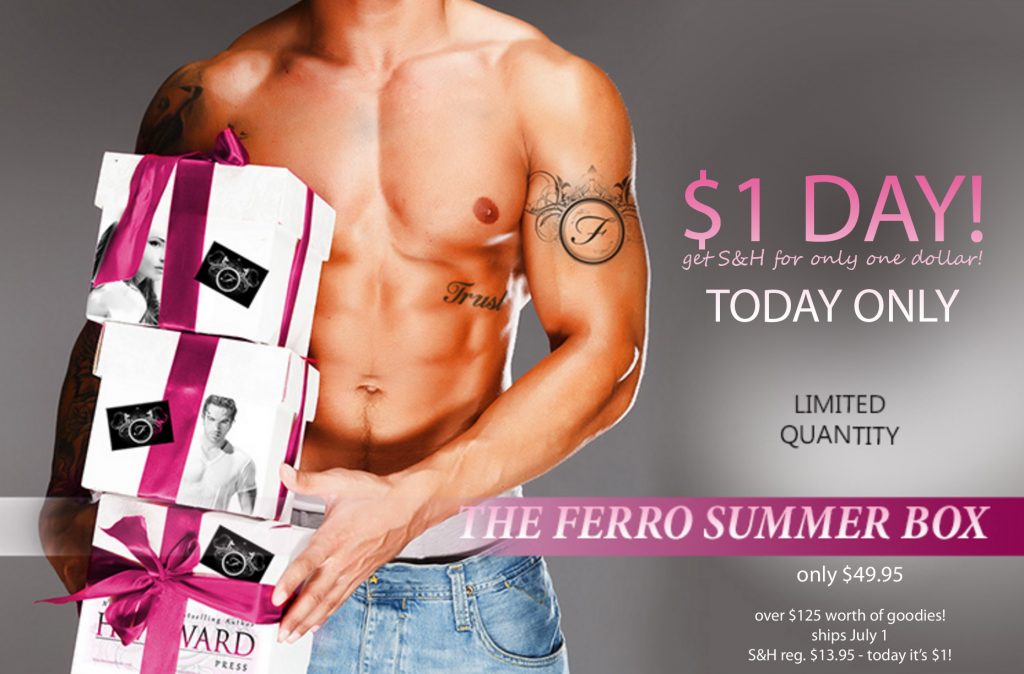 So, I it turns out the remaining few boxes are still available because my main website isn't working properly. I already have tech working on a new site, but it made ordering the last few boxes impossible. A fan told me, so I relocated the webpage here so fans could grab the remaining boxes.
$1 SHIPPING TODAY ON ALL ORDERS! (reg. $13.95)
Wile supplies last. When this item sells out there will be a SOLD OUT notification prior to purchase.
People are asking if I'll do another box. The answer is HELL NO. It was incredibly time consuming and while the things in the box are awesome, this project also went way over budget. So, if you want one – grab it now! Hot guy not included.
THE FERRO SUMMER BOX!
The Ferro box is filled with officially licensed H.M. WARD  merchandise including limited first editions, signed swag, and other sweet surprises! Every box is packed with mystery contents and filled with the newest H.M. WARD merchandise.
Each FERRO box has a retail value over $125.
These boxes include exclusive, quality Ferro merchandise that's not available in stores. You'll be the first to get it!
Box content may include things like signed books, clothing, drinkware, toys, stationary, trinkets, and more! The number of boxes is limited so grab yours today before they are all gone!
FREQUENTLY ASKED QUESTIONS:
WHAT'S IN THE BOX?
Each box has mystery contents valued at $125 USD and has an assortment of items. There can be anything in there from clothing to signed first editions. It's a mystery box filled with new merchandise and awesome stuff!
CAN I ORDER MORE THAN ONE BOX?
Yes, you can!  Simply click the order button again and place a separate order for each box. Each box will be shipped separately.
CAN IS GIFT A BOX TO A FRIEND?
Yes! Just enter their address in the ship to address section of the payment form. After you submit payment, you can then print out a GIFT VOUCHER by clicking here. Print, cut it out, and wrap it up in a box and you have a great gift!
CAN I PAY WITH A CREDIT CARD?
Yes you can! There's a toggle button on the form way down at the bottom. You don't need to sign into PayPal to make a credit card payment. Click PAY WITH CREDIT/ DEBIT/ PAYPAL CREDIT and it'll flip you over to the correct screen.
CAN I BUY THE STUFF IN THE BOX AT THE STORE?
Nope! This merchandise is NOT available in stores. This is the only way to get it. The box contents are custom/ official merchandise that was created for you & offered at an absurdly reduced rate. 
WHEN WILL I GET MY BOX?
ALL BOXES SHIP ONLY JULY 1st, 2016. Add 10-12 days for transit times to most places in the 50 United States.  Please note that boxes do NOT ship right away. To get this amazing price, all the boxes have to be shipped at once.
CAN I CANCEL MY BOX?
No, once an order is placed all sales are final.
HOW MUCH IS S&H?
It's only $13.95 per box. You can get S&H for $1 on dollar shipping day in early June!
CAN INTERNATIONAL FANS ORDER A BOX?
Not at this time. I'm working on it for future boxes if we have enough of a demand despite the high shipping fees for international postage. If you want it, I'll make it happen, but it won't be in time for this box.
WHO PICKED OUT THE STUFF IN THE BOX?
H.M. Ward personally selected the items in the box. She spent several months dreaming up a box that's affordable and filled with fun things that Ferro fans would love to have this summer.
TERMS & CONDITIONS:
Orders will be taken until May 31, 2016 or until this item sells out. All orders will be processed and shipped on July 1st, 2016 unless otherwise stated. USA only at this time. The S&H fee is $13.95 per box. Due to the deeply discounted nature of this item there are no refunds. If your box is lost or damaged in transit please file a claim with the post office. Each item has a quality control check before leaving our site to ensure you have an awesome experience. In the event that something arrives wonky, please contact me.
QUESTIONS?
Contact me before you buy! I'm happy to help.