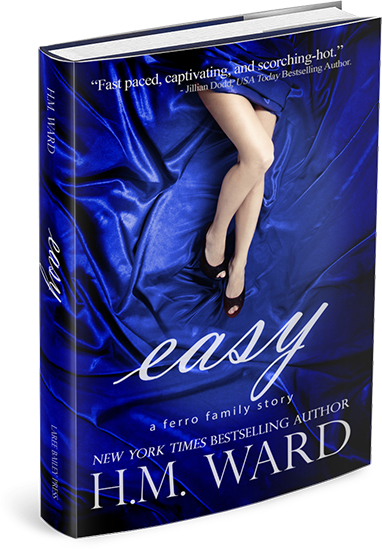 Easy - The Ferro Family
The series with nearly 13 million copies sold
Volume 1 in the new series by New York Times Bestselling Author H.M. Ward
After the death of her twin, Joselyn Ferro decides to make radical changes to her life. She's done with loser boyfriends who only her for her body and the billions she'll inherit. It's time to start over.
The only problem is her family. She's a Ferro, the only woman of her generation in a family filled with strong, alpha men. They spell it out for her: NO career and NO getting caught with anything between her legs—whether it's a cello or a lover.
Determined to begin again, Joselyn grabs a fake name and a new look, packs up her musical talent, and heads straight to the New York Symphony. A bit of luck combined with a fluke lands her a coveted seat in the cello section.
Her best friend hooks her up with an easy date, the perfect type of man candy to celebrate her newfound freedom. But when things get hot and heavy, Joselyn realizes she went home with the wrong guy. She bolts spewing lame excuses, terrified he'll blab to the press.
The next day, as Joselyn takes last chair in a section full of men. When she glances up to meet her new conductor she sees the man from the night before. If he recognizes her and figures out who she really is, her new life is over before it has a chance to begin.
---
The Arrangement
THE ARRANGEMENT is the wildly successful series that has appeared at the tops of charts since its debut in 2013, hitting the NYT and USA Today bestseller lists a combined 33 times and sold almost 13 million copies worldwide.
Damaged
DAMAGED is a #1 Amazon, B&N, and Kobo bestseller, as well as the #1 bestselling Indie book in paperback for the year it debuted. Get lost in a story of forbidden love and second chances.
Secrets & Lies
The newest series in the Ferro world is complete! Secrets & Lies is a USA Today bestselling series that will make you laugh and swoon. With a hot teacher crushing on her, a yellow school bus, and a stalker raccoon, Kerry Hill's bad luck takes her on a sexy adventure that will leave you laughing and thoroughly satisfied.
H.M. Ward's Best Selling Series